Blue Door Painters started off as a small company with big dreams. Armed with a paintbrush, a vision, and the slogan 'Complacency Kills', Blue Door Painters' owner/operator set out in 2004 to build a painting and refinishing company that would make the world more beautiful.
Approaching the market with a beginner's mind, we at Blue Door Painters soon discovered a habitual disconnect in the world of professional painting and refinishing, which limits the potential for high-quality service. After studying the hows and whys of this disconnect, we built this business around correcting it. Complacency kills – so we refused to let the business become complacent, striving instead for an ever-increasing standard of excellence. The result was a company that stood head and shoulders above the rest when it came to both customer service and quality work.
The major disconnect we found in the painting industry was between the customer's vision and the painter's execution.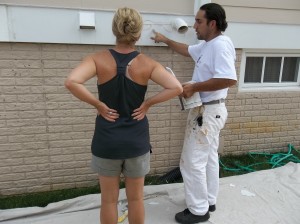 Customers with no background in the painting profession came up with visions for their space – and painters with years of experience simply did what they have always done, without thinking outside the box, and without adequately explaining to the customers why their visions might need to be modified. Once the work was contracted, in many cases the communication between the customer and the painters was minimal, with little to ensure that the project was proceeding as planned. The result was work that often did not match customers' expectations.
The solution to that problem was twofold: education and communication. We took the time to thoroughly research the scientific and artistic details of every aspect of our craft, so that we could ensure that we and our staff had the expertise to think creatively about each vision, and come up with original ways it might be executed. We also learned to stress communication, taking the time to listen and follow up, to consider each idea with an open mind, and to explain the technical nuances of each project in words that a layman could understand. The success of the Blue Door Painters solution was measured by happy customers, who looked out over their finished project and saw what they hoped to see – or better.
Today, Blue Door Painters is a well-established painting and refinishing company serving the entire Washington, DC area, but the slogan "complacency kills', and the rigorous standards of communication, customer service, and quality craftsmanship that seeded the company continue to blossom. In all of its jobs – painting, staining, wallpaper, drywall, damage remediation – Blue Door Painters strives for excellence, and measures its success, as always, in happy customers.