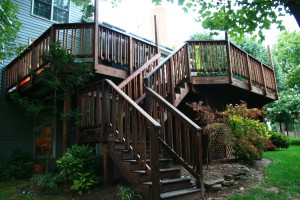 Staining brings beauty to any natural wood surface.  Rather than putting a colored film over the surface, stain penetrates into the wood, carrying rich color and chemical protection into the pores of the wood, leaving the attractive grain visible, but infusing the whole surface with a warm glow.
Stain can be used to change the color of a wooden surface, or it can simply brighten and refresh an existing tone.
In addition to rejuvenating the look of the wood, staining offers wood protection against the elements.  The chemistry of the stain gives the wood resistance to water, mildew, UV rays, and chemical attack, which extends its life beyond what you could expect from vulnerable unfinished wood.
Staining wood can be a delicate procedure; it is important to thoroughly clean and sand a surface prior to staining, and it is also important to make sure that the stain is applied evenly.  Blue Door Painters uses industry standard procedures to ensure high quality work; including pressure-washing prior to staining and using the type of brush specified for the stain you select.  With 5 years of experience working with stain in the Washington, DC area, we will make sure that your wood comes out beautiful and glowing.